31/12/20 a special year 2020 lies behind us ...
... thanks to all who made it happen and all the best for 2021!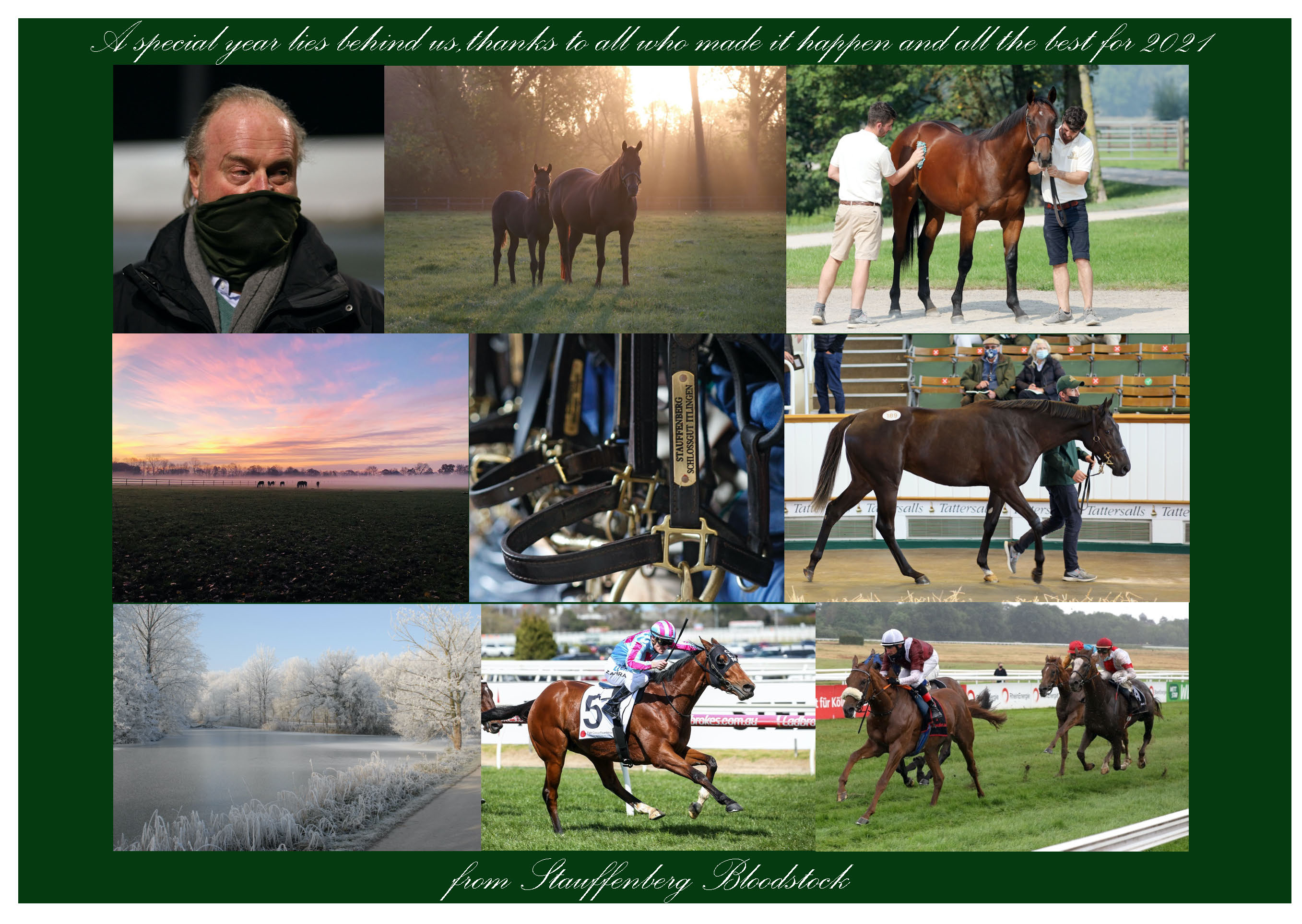 The year 2020 will be remembered as the year of Covid-19 and all the impacts this pandemic has had on the world.
After the first news the pandemic was spreading from China worldwide, we were all scared what's going to happen in our business in 2020. In review we can say: for us it was better than feared.
The breeding season was affected, as we did not have the usual number of international boarders for covering due to the travel restrictions, but this had a positive effect on the paddocks, as the number of horses was reduced and they really recovered very well after two very very dry years.
The winners produced at
SCHLOSSGUT ITLINGEN
kept coming throughout the whole year in more or less all leading racing nations in Europe, USA, Japan, Australia and Hongkong and the final results added up to
56 wins and nearly €1.500.000 prizemoney
. Gr.2 winner
WONDERFUL MOON
, prepped and sold by
STAUFFENBERG BLOODSTOCK
and the pinhooked Gr.3 winner
AL GALAYEL
were the highlights of a season, in which 9 individual Stakes performers hit the track, two of them being 2yo's in
EDITOR AT LARGE
and
GIULIANA
.
It was always the plan to
reduce the number of yearlings for the sales preparation and so 18 were prepped for the sales of BBAG, Goffs and Tattersalls. All 18 yearlings made it to the sales, 16 were sold at an average of €154.125, more than double of the average of the leading sales in Europe in 2020 and the included the most expensive yearling ever sold by
STAUFFENBERG BLOODSTOCK
, a filly by
WOOTTON BASSETT
for GNS600.000 (nearly €700.000) sold to Charlie Gordon Watson, who was acting on behalf of Lady Bamford.