31/12 The 2007 season has been a successful one
winners in DK, F, GB, GER, IRE, Ity and SWE
19 winners in Europe in 2007 have been bred and raised in Schlossgut Itlingen
The best filly and the best horse bred by Graf und Grafin Stauffenberg overall in the season 2007 has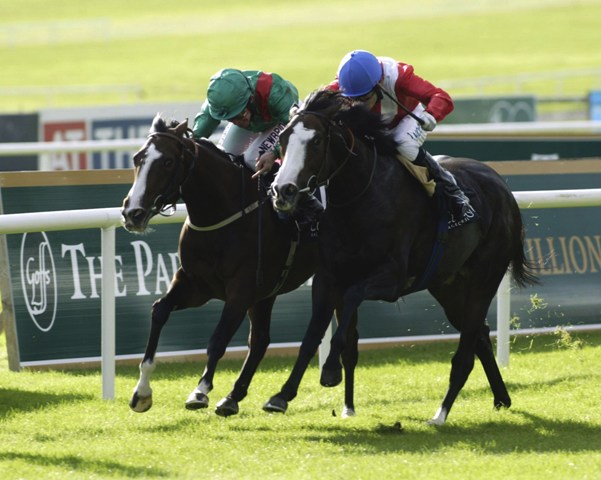 been FOUR SINS (Sindar-Four Roses). The 3yo filly sold at the Goffs Million Sale to HH Aga Khan won with the Blandford Stakes, Gr.2 and the Blue Wind Stakes, Gr.3 two Pattern Races and was placed in the Epsom Oaks, Gr.1 as well. The filly has been retired and is hopefully a worthy addition to HH Aga Khan´s broodmare band.
The best colt was a 3yo again. CALRISSIAN (Efisio-Centaine) was sold at the BBAG Yearling Sale to Provence Hotels Holding. He won three races in Scandinavia and finished second in the Svensk Derby, L. and UBS Sprint Preis, L.. The colt will be aimed to the Dubai Carnival in early spring and should make his mark at distances up to a mile in Europe later on as well.
ZUCKERPUPPE (Seattle Dancer-Zephyrine) won in the colours of Graf und Grafin Stauffenberg. But after being placed in the Schwarzgold-Rennen, Gr.2, could not fulfil the high expectations of her trainer, as she fractured a wing of her pedal bone. Hopefully she can add some more success in 2008 after her complete recovery. SHADES OF BEIGE could not win a race but managed to get black typed finishing second in BMW Sachsen Preis, L.. She has been retired and will visit ELNADIM in 2008. This is a very interesting mating as the resulting foal will be inbred to FALL ASPEN, one of the best broodmares in the studbook.