21/11 Goffs November Foal Sale ended with good results
Graf und Grafin Stauffenberg offered 2 colt foals at the Goffs November Breeding Stock Sales. Both were consigned by Abbeville & Meadow Court Studs and solod for the highest prizes of their sires.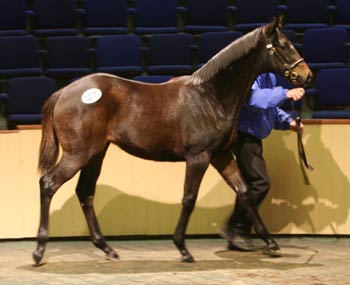 The colt by SHIROCCO out of CENTAINE was sold for €80.000 to the BBA Ireland, who were acting for an new owner. The foal is sold to be kept for racing.
The colt by HOLY ROMAN EMPEROR (photo) out of FANTASTIC BELLE was sold for €80.000 as well. He was bought by Peter Doyle for Patrick Fahey who is more likely to race the colt, than to resell him next year.
In a market, where only 25-50% of the foals changed owners, this was a more than pleasant result and speaks for the quality of the individuals offered, specially as there were no more expensive offspring by their sire at this sale.